The return to ringing (before Omicron) saw two focused practices organised and run by Ailsa Knightley at Stewkley. The first one was dedicated to moving plain hunters forward with the view to introduce plain bob doubles where appropriate.
The second one was a Bob Doubles session aimed at learners able to plain hunt on 5 reasonably confidently.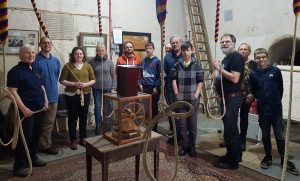 Both sessions were hugely successful, lots to learn, theory as well as practice.
A massive "Thank You" goes to all the helpers who have made this possible and achievable and a special mention to Ailsa who is willing to offer more of these practices.
"We hope to run these sessions in a relaxed and friendly way, encouraging less experienced ringers to have a go, surrounded by supportive and competent ringers giving them a chance to succeed. There will be theory time and hopefully lots of practice time."
"Remember, we can't help you to progress if you don't tell us what you need. One session is a result of a request from ringers at another tower. We can arrange sessions at your tower or at another tower to meet your needs. Sessions can range from plain hunt to surprise major! You just need to let us know what you want to learn!"

Ailsa Knightley
Any requests should be made via treasurer@cbucks.odg.org.uk or secretary@cbucks.odg.org.uk.
These practices will have limited numbers per session (ideally 6) to ensure efficiency and if we have more ringers interested then more sessions will be considered to accommodate demand.