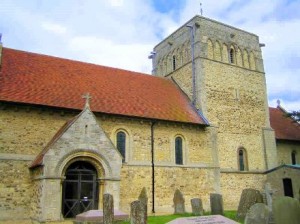 Place:
Stewkley
Location:
LU7 0HH
Dedication:
St Michael & All Angels
OS Ref:
SP852261
Bells:
8
Tenor:
10-0-16
Key:
F
Practice – Wednesday:
19:30
Sunday:
?
 Check first
Contact:
Mrs Ailsa Knightley
Telephone:
07745 478573
Email:
stewkley@cbucks.odg.org.uk
Dove's Guide:
Stewkley webpage is here.
Notes for visitors:
Access to the church is via the South Porch Door.

The Bells are rung from a ringing room in the central tower accessed via a short staircase.

Availability – Visitors: Yes.   Peals: Occasional.   Quarters: Yes.