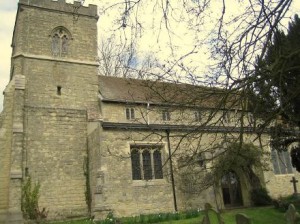 Place:
Quainton
Location:
HP22 4AP
Dedication:
Holy Cross & St Mary
OS Ref:
SP749201
Bells:
8
Tenor:
17-1-26
Key:
Eb
Practice – Wednesday:
19:00
Sunday:
17:30
Please contact in advance
Contact:
Mrs Jane Vowles / Mr Philip Roberts
Telephone:
01296 658665    / 01296 655428
Email:
quainton@cbucks.odg.org.uk
Dove's Guide:
Quainton webpage is here.
Notes for visitors:
Access to the church is via the West Tower Door.
The Bells are rung from the Ground Floor.
There are toilet facilities at the church.
There are catering facilities at the church.
Ringers' recommended pub: The George and Dragon.Availability – Visitors: Yes.   Peals: Occasional.   Quarters: Yes.