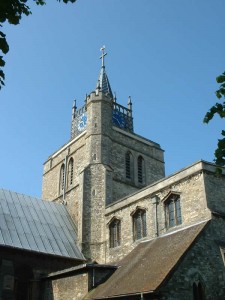 Availability – Visitors:Yes   Peals:Occasional   Quarters: Yes
Place:
Aylesbury
Location:
HP20 2JJ
Dedication:
St Mary the Virgin
OS Ref:
SP817139
Bells:
8
Tenor:
21-2-12
Key:
Eb
Practice – Tuesday:
19:30 – 21:00
Sunday:
09:30
Contact:
Grant Edney
Telephone:
07723 621385
Email:
aylesbury@cbucks.odg.org.uk
Dove's Guide:
Aylesbury webpage is here.
Notes for visitors:  Please check before visiting as practices sometimes have to be cancelled
Access is via the a door in the North Transept when the church isn't open. Press on the intercom button to talk to one of the ringers and gain access.  The tower has sound control.
There are toilets in the church.
The church has catering facilities.
Ringers' recommended pub: Lots of Pubs in Aylesbury.  Nearest: The Rockwood, The Queen's Head, The King's Head.
Availability – Visitors: Yes.  Peals: Occasional.  Quarters: Yes.