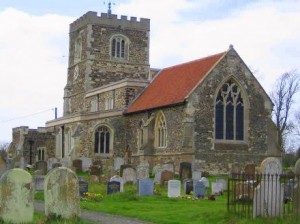 Place:
Soulbury
Location:
LU7 0BX
Dedication:
All Saints
OS Ref:
SP882270
Bells:
6
Tenor:
15-0-21
Key:
E
Practice – Thursday:
19:30
Check first
Sunday:
Check
Contact:
Mr David Kellner
Telephone:
07713 626780
Email:
soulbury@cbucks.odg.org.uk
Dove's Guide:
Soulbury webpage is here.
Notes for visitors:
The ringing room is on the ground floor.

There is a toilet at this church.
There are catering facilities at this church.
Ringers recommended pub: The Boot.

Availability – Visitors: Yes.   Peals: Occasional.   Quarters: Yes.