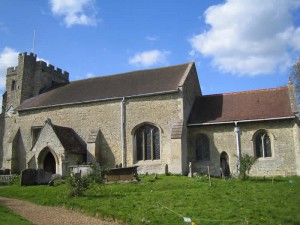 Place:
Nether Winchendon
Location:
HP18 0DY
Dedication:
St Nicholas
OS Ref:
SP732122
Bells:
5
Tenor:
12-1-8
Key:
G
Practice – Friday:
18:45
currently suspended
Sunday:
2nd – 09:30
 4th – 17:30
Contact:
Mrs Sarah Evans
Telephone:
01844 290307
Email:
netherwinchendon@cbucks.odg.org.uk
Dove's Guide:
Nether Winchendon webpage is here.
Notes for visitors:

The Bells are rung from the ground floor

.

Availability – Visitors: Yes.   Peals: Occasional.   Quarters: Occasional.