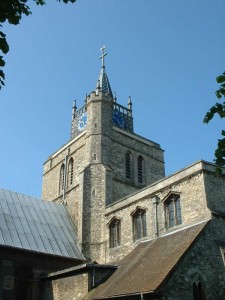 Place:

Aylesbury

Dedication:

St Mary the Virgin

Bells:

8

Tenor:

21-2-12

Key:
Eb

OS Ref:

SP817139

Practice:

Tuesday, 19.30

Sunday:

9.30

  

Other service by arrangement.

Correspondent:

Mr Mike Dodd

Telephone:

01296 486019

Email:

aylesbury@cbucks.odg.org.uk

Notes for visitors:

Access is via the a door in the North Trancept when the church isn't open.  Press on the intercom button to talk to one of the ringers and gain access.

The tower has sound control

There are toilets in the church

The church has catering facilities

Ringers' recommended pub: Lots of Pubs in Aylesbury.  Nearest: The Rockwood, The Queen's Head, The King's Head

Availability – Visitors: ? Peals: ? Quarters: ?